Indiangrass Hills
A Prairie/Savanna Restoration in Pilot Township,
Iowa County, Iowa
Introduction
Indiangrass Hills (IgH) a 640 acre prairie restoration project located in sections 20 & 21 Pilot Township, Iowa County, Iowa contains existing patches of remnant prairie, about 80 acres (half never ploughed and half strongly regenerating from cultivation decades ago). In 1997, Richard S. (Sandy) Rhodes II, Judy Felder and Mary Brown purchased 480 acres and William and Barbara Buss purchased an adjoining 160 acres in 1998.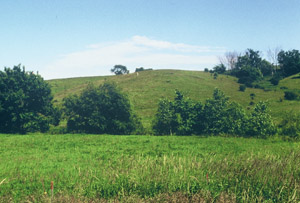 Our goal is to use management techniques that will allow the land to gradually return to the habitats that existed prior to Euro-American settlement. It is hoped that the primary focus of restoration of prairie vegetation will stimulate parallel restoration of fauna species as well. Our intent is to demonstrate that it is possible to locate and rehabilitate relict prairie remnants on the highly disturbed habitats of our agricultural landscape.
Indiangrass Hills received the Iowa County Soil and Water Conservation District award for Wildlife Habitat Management in 1999 and in 2000 the Iowa Chapter of Soil and Water Conservation Society Friend of Conservation Award. Indiangrass Hills(one of only two privately owned sites at the time of designation) has achieved designation as an Iowa Important Bird Area by the Iowa Audubon Society.
In 2005 a conservation easement was given to the Iowa Department of Natural Resources and the land was donated to the Iowa Natural Heritage Foundation with reserve life estates for Sandy Rhodes, Judy Felder, and Mary Brown. Felder and Brown will continue to manage Indiangrass Hills.
Pictures from our lastest burns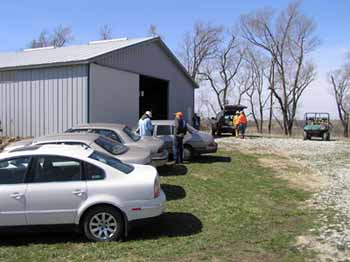 ---